Speechless.
courtesy of hosted.ap.org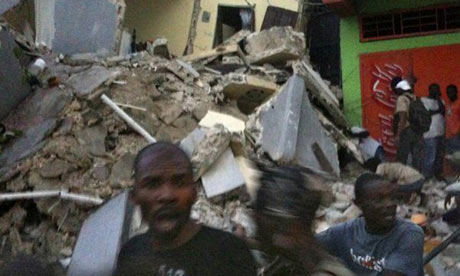 Wyclef Jean, a musician and Goodwill ambassador to Haiti, seems to have one of the best ways to send help. Go here. You can donate by texting. It will take you less than a minute. Other reputable organizations ready to help:

• American Red Cross: Since its founding in 1881 by visionary leader Clara Barton, the American Red Cross has been the nation's premier emergency response organization.
• Action Against Hunger:Named for the original member of the International Network, Action contre la Faim, or ACF, the ACF International Network shares an overall vision of a world without hunger, collaborating closely and sharing human resources, logistics, and technical capacity.
• Operation Blessing International:Operation Blessing International Relief and Development Corporation (OBI) is a nonprofit 501 (c)(3) humanitarian organization based in Virginia Beach, Virginia, USA.
• AmeriCares: AmeriCares is a nonprofit disaster relief and humanitarian aid organization which provides immediate response to emergency medical needs - and supports long-term humanitarian assistance programs - for all people around the world, irrespective of race, creed or political persuasion.
• ConcernUSA.org: Concern Worldwide is a non-governmental, international, humanitarian organization dedicated to the reduction of suffering and working towards the ultimate elimination of extreme poverty in the world's poorest countries.
• American Jewish World Service: American Jewish World Service (AJWS) is an international development organization motivated by Judaism's imperative to pursue justice. AJWS is dedicated to alleviating poverty, hunger and disease among the people of the developing world regardless of race, religion or nationality. AJWS fosters civil society, sustainable development and human rights for all people, while promoting the values and responsibilities of global citizenship within the Jewish community.
• CARE: CARE is a leading humanitarian organization fighting global poverty.
• Beyond Borders: Beyond Borders is a registered tax-exempt (501c3) non-profit organization. All contributions are tax-deductible. We are certified by the state of Pennsylvania as a charitable organization.
• Catholic Relief Services: Help CRS rush humanitarian relief to survivors within hours of man-made and natural disasters around the world.
• Direct Relief International: Since 1948, Direct Relief International has worked to help people who confront enormous hardship to improve the quality of their lives.
• Childcare Worldwide: At Childcare Worldwide, our unique programs not only help feed hungry children and their families, they also help children receive an education that leads to employment. Our goal is to help children survive and succeed.
• Doctors Without Borders: Doctors Without Borders provides aid in nearly 60 countries to people whose survival is threatened by violence, neglect, or catastrophe, primarily due to armed conflict, epidemics, malnutrition, exclusion from health care, or natural disasters.
• Feed My Starving Children: Feed My Starving Children is a non-profit Christian organization committed to feeding starving children.
• Friends of WFP : Friends of WFP is a U.S.-based, nonprofit, nonpartisan organization that focuses on building support in the United States for the United Nations World Food Program (WFP) and other hunger relief operations.
• Haitian Health Foundation: The Haitian Health Foundation provides health care, development, relief, and the hope of a future to more than 225,000 of the poorest people in over 100 rural mountain villages in southwestern Haiti.
• International Medical Corps: International Medical Corps is a global, humanitarian, nonprofit organization dedicated to saving lives and relieving suffering through health care training and relief and development programs.
• Hope for Haiti: Hope for Haiti has held the vision from the very beginning that the people of Haiti are the ones who take control of their future and we are here to lend a needed hand along the difficult path.
• International Relief Teams: International Relief Teams is a nonprofit, international relief organization dedicated to organizing volunteer teams to provide medical and non-medical assistance to the victims of disaster and profound poverty worldwide.
• Medical Teams International: Since 1979, Medical Teams International has shipped more than $1.3 billion in antibiotics, surgical kits and lifesaving medicines to care for 35 million people in 100 countries around the world. More than 2000 volunteers meet the needs of people worldwide each year.
• Meds and Food for Kids: Meds & Food for Kids is dedicated to saving the lives of Haiti's malnourished children and other nutritionally vulnerable people.
• Mercy Corps: Mercy Corps is a team of 3,700 professionals helping turn crisis into opportunity for millions around the world. By trade, we are engineers, financial analysts, drivers, community organizers, project managers, public health experts, administrators, social entrepreneurs and logisticians. In spirit, we are activists, optimists, innovators and proud partners of the people we serve.
• Oxfam: Oxfam International is a confederation of 14 like-minded organizations working together and with partners and allies around the world to bring about lasting change.
• Operation USA: Operation USA helps communities alleviate the effects of disasters, disease and endemic poverty throughout the world by providing privately-funded relief, reconstruction and development aid.
• Partners in Health: Our mission is to provide a preferential option for the poor in health care.
• Samaritan's Purse: Samaritan's Purse is a nondenominational evangelical Christian organization providing spiritual and physical aid to hurting people around the world.
• Save the Children: Save the Children is the leading independent organization creating lasting change in the lives of children in need in the United States and around the world.
• UNICEF: UNICEF is mandated by the United Nations General Assembly to advocate for the protection of children's rights, to help meet their basic needs and to expand their opportunities to reach their full potential.
• World Concern: World Concern works in 24 of the poorest countries on Earth, giving hope and opportunities to vulnerable people in great need.
• World Vision: World Vision helps transform the lives of the world's poorest children and families in nearly 100 countries, including the United States. Our non-profit work extends assistance to all people, regardless of their religious beliefs, gender, race, or ethnic background.