Finally!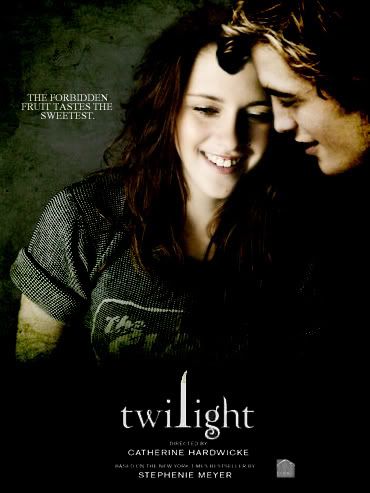 So I was getting a little kerfluffled that so many people I knew (Heather) were seeing Twilight once, twice, three times and I hadn't yet. Being stuck in the house all day with a sick kid, and knowing I would be stuck all day in the house tomorrow with a sick kid, I batted my best chilly-willy eyes at David and he shooed me out the door to the movies. I went to the late show, after the kids were in bed, and I had a fairly empty theatre, which was nice because I was hearing rumors of audiences screaming and wooing over a certain vampire. Fortunately, my audience was perfectly subdued. Here are my thoughts for those of you who care (Heather).
Edward--perfectly cast
Bella--perfectly cast
Jacob--gag, cough, sputter, what were they thinking???
Special effects--well it was a low-budget film and they looked kinda low budget
Favorite scene--when Bella walks into the science classroom and the fan blows her hair. Edward's reaction is priceless.
Baseball scene was great, exactly how it was described in the book, but why was Emmet wearing velour?
Bella at the Cullen house was also great.
My advice (for anyone besides Heather still reading this post): do NOT see this movie if you haven't read the book. It will look so cheesy. If you know the book and know what Bella and Edward are thinking about--what all the characters are thinking--you will really enjoy it.
I loved it. Heather, please comment!